We tend to think of ourselves as wiser as we get older, BUT sometimes the best lessons are found in young children, whose purity of thought shines through. Last summer, my four-year old daughter, Delaney, unknowingly shared some life lessons with me as she played with her younger cousin, Cadey. A comfortable swimmer, Cadey was eager to do some of her favorite things in and around the pool, and Delaney, a less comfortable swimmer, hesitantly tried to keep up. When Cadey asked Delaney to jump off the side of the pool with her, Delaney was reluctant. Eventually she jumped, but her reticence was evident. The picture tells the story beautifully and here are three quick lessons learned from the girls.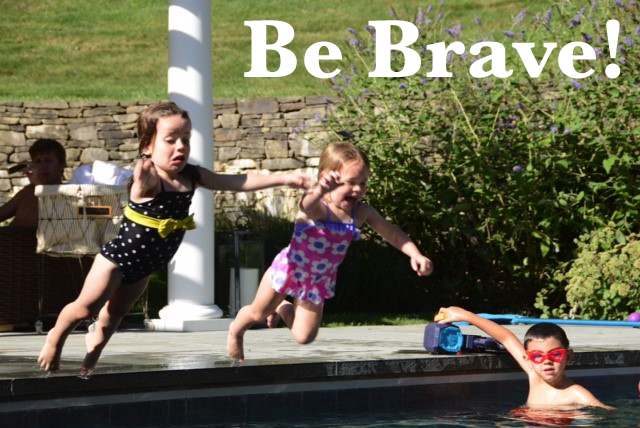 Face Your Fears. We only grow when we challenge ourselves and stretch our boundaries. When trying something new, we tend to focus on what could go wrong…I might get hurt, embarrass myself, or not enjoy it. If we shift our mindset and think equally about what could go right, we can neutralize our fear somewhat. Then it takes less courage to "take the leap". As I always tell my kids (and myself), get out of your comfort zone because that is where the fun and the growth is!
Share the Experience. It's much easier to face obstacles together rather than alone. Whether your friend has done it before, shares the same fears or just sees the world differently, having someone along can ease your fears and makes it a shared experience, whether good or bad. In my life, having my best friend, my "partner-in-crime," Noel always got me to do more things than I would never have done on my own and I'm so glad for her friendship and her daring spirit.
Commit. Only giving half of yourself only increases the likelihood of failure. And the view is always better from the other side. Go for it! You'll be glad you did.