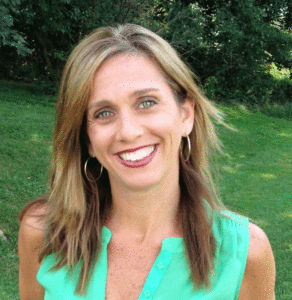 Hey, everyone! I'm Colleen Mook.
I often describe my life as "crazy, but crazy good". It's far from perfect, and I have my share of issues, but on the whole it's usually pretty good and always a bit chaotic. And I'm determined to find the positive and make it even  better. I guess you could say I'm a glass-half-full kind of girl.
So what's all this craziness, you ask? For me, everything starts with my family. My husband Brad and I have four kids (ages 14, 12, 10 and 5), one of whom has some pretty significant special needs. We also have a young dog and live close to my siblings and their 11 kids, so on any given day our house is like Grand Central with all the commotion. I'm also the founder and CEO of Baby Be Hip, my e-commerce business that sells personalized gifts. And when I'm not playing wife, mother, aunt or entrepreneur, I'm pursuing my love of personal development, empowering women and girls, and working together to create the best lives that we can. And that's really what I'm all about… creating the best life I can, even when things aren't easy.
I'm learning – and sharing – the idea that we can overcome the challenges that inevitably come our way and create the life we want
I've lived a pretty good life so far. There have been some great experiences and highlights; I've studied abroad in Australia, lived and worked in Manhattan, met and married the man of my dreams, gone bungee jumping (sorry, Mom and Dad), started my own business, been a guest on the TODAY show, given birth to four kids (who I'm doing my best to raise) and lots more. But no doubt there have been lots of hardships and pain on the journey as well; my Ellie's special needs, loved ones lost, and my own personal health issues, etc. But just like everybody else, I'm just doing the best I can with what I have. And I'm learning—and sharing—the idea that we can overcome the challenges that inevitably come our way and create the life we want. All we need is the right mindset, the right tools, and the right community along with us. And a good song helps too. I often find I'm singing this line of a favorite song to myself or out loud, "I get knocked down but I get up again…." Go ahead, sing it, it helps!!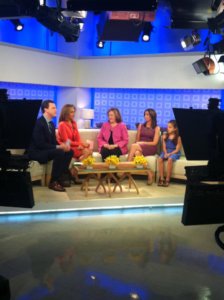 Less important—to me anyway—are my professional credits. I launched Baby Be Hip in 2002 after leaving my corporate career to start my family. We're not quite Amazon, but Baby Be Hip has been featured in national parenting magazines and on Good Morning America, and I've had the opportunity to appear in various media, including The TODAY Show, for my accomplishments in building a successful brand while raising a family. I've also won several small business awards, including Make Mine a Million Dollar Business award, Lifetime Moms Spark& Hustle award, and SCORE/Sam's Club National Giving Award. I'm active in the Philadelphia business community; a few years ago I completed the Goldman Sachs 10,000 Small Business Program, and I'm a regular host of the American Express CEO Bootcamp.
As a small business enthusiast and a passionate supporter of women entrepreneurs and young women in general, I love speaking with large and small groups about a range of issues, from starting small businesses to work/life balance to raising a child with special needs. And the thread that runs through it all is that we all have the power to create the lives we want, even when things aren't easy. Agree? Disagree? Reach out and share your thoughts. Join me on this journey… this crazy good journey.